Christian Raymond
Christian Raymond's adventures in media run the gamut, from writing screenplays in Hollywood for the likes of Walt Disney Pictures to producing character-driven educational films and co-creating films across the globe in partnership with under-resourced communities in Transylvania.
As a director at Austin Studios for eight years, he developed the Austin Film Society's multifaceted community program de novo, to include building the youth media initiative, MCM (Minds Create Media) Studios, a creative mentorship filmmaking program serving over two thousand students at fifteen Title 1 schools.  Raymond has also taught in high school and colleges, including in RTF at UT-Austin. As editor-in-chief of the film journal Persistence of Vision for years, he's wrote extensively on such topics as using alternative digital storytelling approaches for community impact, work coinciding with integrated creative development, such as with animated exploratory storytelling model, the Transmedia Tesseract. 
After joining ACC in 2011, Raymond worked in a leadership role to not only evolve and build new dynamic RTF programs for students, but also to support and help drive the creation of a new vision-oriented educational creative digital media center, work years later now coming to fruition. During a 2019 sabbatical, Raymond combined a deeper dive into immersive digital storytelling technologies to write/produce the interactive VR film/app, Meditation Trek, with research and design of a new interdisciplinary innovation labs program model for the digital media center. The "ACC Creative Co-Labs" is now being collaboratively developed further with division partners as part of the Master Plan and is already connecting students. Raymond's creative/community initiatives have received support or been honored by the National Endowment for the Arts, CEC Artslink, the South by Southwest Interactive Festival and others. Taking inspiration from the motto "Giving is Living," Raymond is on a daily basis grateful to learn, teach and work with students, faculty/staff, and the community.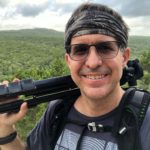 Christian Raymond
Department Chair / Professor