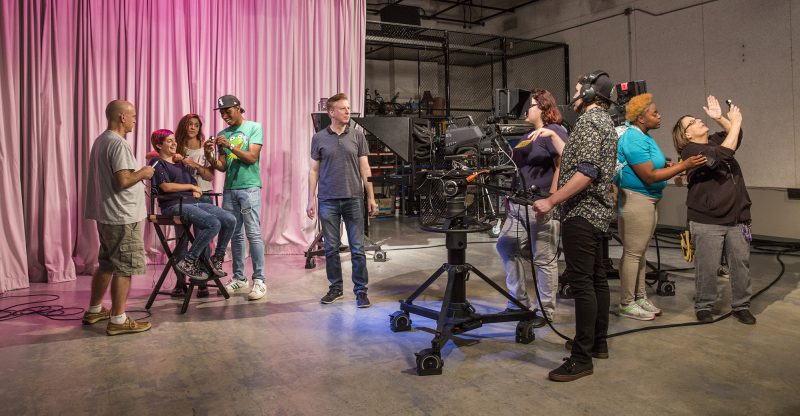 About RTF
Welcome to ACC RTF!
Through the lens of a unique new creative ecosystem, ACC RTF is reimagining media education and training with new programs, industry partnerships, cross-field collaboration models, and state-of-the-art facilities at the over 124,000 square foot Highland Campus Creative Digital Media Center. Recently designated as the first community college Adobe Creative Campus, students are being further empowered with opportunities to use the Creative Cloud Suite and other tools for integrated work in and across media forms.
With workforce training degree programs in Film & Emerging Media Production and Streaming TV Production to certificates such as Creative Podcasting or Production Management, we mentor media makers via immersive educational programs in the art, technological craft, and business of digital storytelling, culminating in internship/portfolio options. Through the general RTF Transfer Degree, which combines coursework in production and media studies, students can complete the first two years of college and continue their educational journey with our 4-year partners as well.
ACC RTF Faculty & Staff bring practical industry experience to class, to include working for major film studios like Disney, winning Texas Emmys for hit PBS shows, managing renowned streaming TV/broadcast production facilities, teaching at universities like UCLA or UT-Austin, recognition for films at prestigious film festivals like Sundance, SXSW and Festival de Cannes, as well as receiving local, national and international grants for artists and educators.
RTF cultivates and is grateful for deep relationships with industry and the community, which support partnership programs, internships and professional opportunities for students and graduates.
If you are considering and would like to discuss the program, please feel free to reach out directly to RTF Department Chair Christian Raymond or Instructional Associate Laura DiMeo.