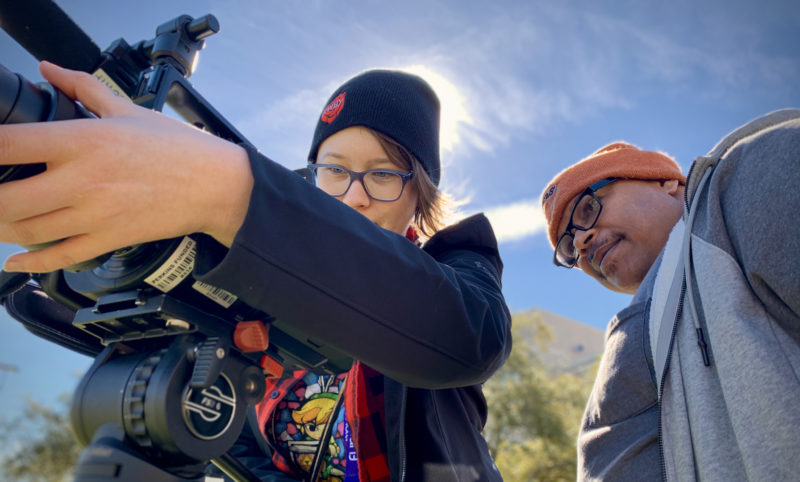 Get Involved
With the opening of our creative digital media center on the horizon and new programs underway, it's an exciting time in ACC RTF. There are many ways for industry and local organizations to get involved and become a community partner, which include:
Offering internships which provide a training experience to RTF Students, creating a pipeline of ACC talent to your company.
During their final semester, students can intern as part of a class for a full semester at a wide range of organizations, such as production companies, TV stations or mixed media studios.   
Visiting a class or participating in special event discussions/panels to share experience, or by sponsoring a class project through our new story innovation labs program slated to launch in fall 2021.
Currently, guest professionals regularly visit ACC RTF, to include classes ranging from Screenwriting to Directing, Producing or Cinema Studies.
Becoming a member of our ACC RTF Advisory Committee, providing input to the future of the department or supporting ACC RTF student scholarships.
See our current fantastic group of advisors here!
By developing an internship training program from scratch directly with the department and college.
Our Samsung & ACC RTF Video Production Internship Program is an example. Students learn to create training films at the Austin Samsung semiconductor facility as part of a video production team. This paid internship can progress to additional longer term full-time contract work beyond the semester, to include graduates of the program leading/training new students coming in.
As a nonprofit or community organization, adding your name to our list of "Potential Class Projects."  Student can connect with causes based on their own passion and interests, such as during a documentary class focused on social impact work.
Watch SWAN, created by RTF students in such a class, about a support group program for children affected by incarceration, and the amazing free music mentorship program making a difference right here in Austin.
Developing a multi-tiered collaboration across semesters integrating many of the above elements and leading to such activities as apprenticeship-style internships and co-creative work.
Our new Streaming TV & Broadcast Production Degree includes the development of a new "ACC & Austin PBS Collaborative Community Media Training Model" rooted in our overlapping organizational missions to infuse the partnership. This includes deep ACC class/PBS educational connections, co-production of content, apprenticeship-style internships, and links to our new innovation labs program.
To explore a partnership, please contact RTF Department Chair Christian Raymond.
Other outside opportunities for students unrelated to RTF classes, such as job postings, freelance work, volunteer calls or other programs, we encourage posting on ACC Career Link or the RTF Project / Crew Call.