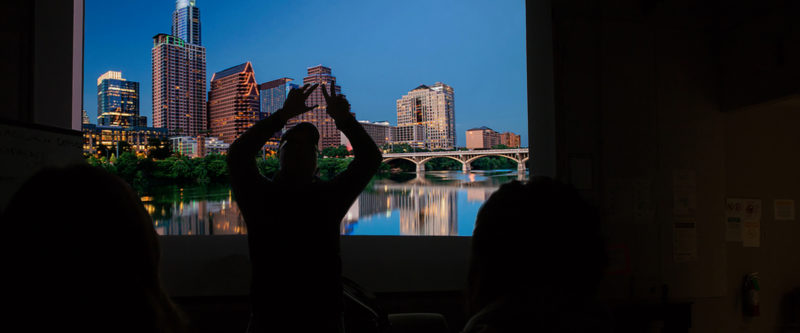 Alumni
ACC students/graduates have gone on to work in virtually every aspect of the field. Here are examples of alumni professional activities, highlighted by career, company and/or a specific media project or two:
Jessica Availa (Camera Department Grip, Office PA for Fear the Walking Dead)
Adam Bounds (Director, WFLA TV)
Kira Bridgewater (Video Broadcast Coordinator, Rockharbor TV)
Amber Buchanan (Camera Assistant/Cinematographer, Old Fast Class Cinema Lens Rental)
Victor Diaz (News Anchor & Film Critic, Spectrum News)
Laura DiMeo (Grip, Professor)
Isabella Garcia (Conference Coordinator, Austin Film Festival)
Bita Ghassemi (Director/Producer, Pillarboxed)
Theo Georgescu (Script Manager, StoryFit)
Lindsay Goodwin (Video Production Specialist, Samsung)
Collin Hardeman (Founder, Executive Producer, Amaz1n Media)
Jeffrey Johnson (SAG Actor, Stuntman)
Ryan E. Johnson (Arts Critic, Austin Arts Watch)
Patrick Kondelis (Producer, The Scheme on HBO & High Profits on CNN & NetFlix)
Richard Lozano (Editor/Producer, The DayTripper on Austin PBS)
Joe Lee (Production Assistant, Battle Angel)
Richard Linklater (Writer/Director, Waking Life, Boyhood)
Jac Malloy (FOH Coordinator, Austin City Limits Live, Professor)
Kevin McNease (Gaffer/Grip at Vet TV, Veteran's TV)
Michael Moore (Editor/Videographer, KVUE-TV)
Jeana Poteet (Locations, Fear The Walking Dead)
Jay Reyna (Production Assistant, The Voice, NBC)
Matt Rifley & Devon Foster (Co-Founders, Austin Indie Fest)
Alexa Ramiriez (Associate Producer, Brave Cove Productions)
Alex Salahi (Cinematographer, NBC, Discovery Channel, CNN)
David Songe (Video Editor, Wargaming Inc.)
Hugo Sanchez (Multi-Media Producer, Univision)
Armando Santos (Video Producer, Production Tech, KXAN)
Mike Scannell (Screenwriter, He's Out There, Screen Gems)
Ryan Schuh (Co-Founder & Manager, Sun Radio Network)
Austin Shankle (Video Production Specialist, ACC TV)
J.J. Webber (Productions and Operations Director, Austin PBS)
Robyn N. Williams (Visual Effects Production Manager, Godzilla Vs. King Kong)
If alumni and out of touch with the ACC RTF community, we'd love to reconnect! Please feel free to reach out to the department or learn some ways to potentially Get Involved, and/or join our Facebook Group to hear about upcoming activities.