Mitch Abney
I hail from a farm near Champaign IL and still miss the phenomenon of 4 seasons. I received my Bachelors in Media Studies from the University of Illinois, then moved to Austin where I earned my Masters in the Dept. of Critical & Cultural Studies in Film. My thesis was an economic study of Warner Bros. cartoons, and served as a broader investigation into the function of short subjects during the classical studio era and beyond, while also highlighting the value of such IP in the era of conglomerate filmmaking.
I once managed the late and deeply lamented Vulcan Video, and have been assisting cancer patients while working for the American Cancer Society over the last seventeen years. I have dearly enjoyed two stints of teaching in the RTF Dept of ACC, that combined have spanned 22 years, consisting of Film History, Film Appreciation, Intro to RTF, and most recently our Intro to Cinema course.
I can narrow my 5 favorite films down to Wings of Desire, Night of the Hunter, Black Narcissus, Ikiru, and the Third Man. I seek out any film noir entry I can find, and am equally fond of the late 60s – mid 70s Hollywood art cinema. I miss drive-ins and the days of 1 theater – 1 film.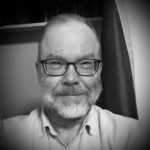 Mitch Abney
Associate Adjunct Professor