John Moore
Mr. John Spottswood Moore received his BA in Film Studies from the University of North Carolina at Wilmington and an MFA in Film Production from the University of Texas. His graduate thesis film, "Once Again", was awarded the Barbara Jordan Media Award for Excellence in Broadcasting by the state of Texas.
Mr. Moore is a multi-award-winning filmmaker based out of Austin, TX. With 15 years of production experience, Moore produced and edited marketing videos for companies such as Lenovo, HP, Old Spice, PBS, and FaceBook.
Before teaching at ACC, he spent nearly three years as a staff editor for Rooster Teeth. Mr. Moore's upcoming documentary feature, "When We Were Live", about the history of public access TV in Austin, has been awarded two Austin Film Society grants.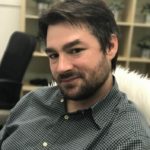 John Moore
Associate Professor