Chris Burfict
C. Burfict is an Austin-based filmmaker and educator in media production, having served as an independent contractor in the film and television industry for the past 11 years. In his tenure as a media professional, he's produced national branding content for Burger King, Toyota, Jaguar, and Mitsubishi Motors, while dually serving in camera, art, and set production for ABC, NBC, MTV, TLC, Superbowl XLV, and 3x feature films. Having worked in over 41 metropolitan markets across the country, from LA to New York, he is proud to call Austin his home.
Burfict is also a member of the Austin Film Society and registered filmmaker with the Texas Film Commission. He has been acknowledged for his documentary work on homelessness with Still Standing (2018), and narrative shorts including Young Man's Luck (2019), Protocol (2020), and Duplicity (2021). His research interests include improving consumer literacy around global media practices, the diversification and evolution of independent film/television production, and the development of immersive narrative storytelling through alternative technology.
He completed his Bachelors of Arts in Radio, Television, Film with a minor in Business Management at the University of North Texas near Dallas, before completing his Masters of Fine Arts in Radio, Television, and Film from the University of Texas at Austin.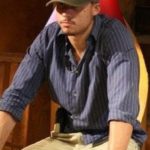 Chris Burfict
Adjunct Professor