Take 5 with Student Kiki Mitchell
April 23, 2021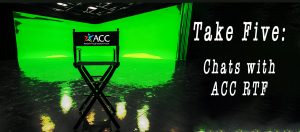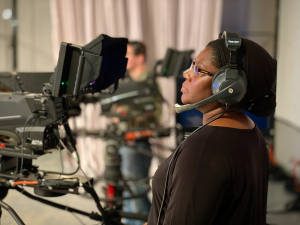 Kyota "Kiki" Mitchell is one of the first students to enroll in the new Streaming TV and Broadcast Production Associate of Applied Science Degree launched by ACC RTF this spring. She typifies many adult learners who strive to balance family, jobs, and keeping on track with her studies. Originally from Chicago, "Kiki" obtained her G.E.D back in 2002 while working in retail and childcare. In 2003, Kiki attended a junior college and studied Marketing for a few semesters. Shortly after, she started a family and spent 14 years homeschooling her children. During that time, she studied online for a year and earned a Medical Administrative Assistant certificate. Her involvement in writing and making videos at church led her to come to ACC in the Summer of 2019 to take just a few audio editing classes. However, with each new RTF class, she became convinced to pursue a new career in media production. By Spring of 2020, Kiki was a full time student, and when the new degree in broadcasting was announced, she knew she found her new path.
RTF: You know the ACC motto, how does it speak to your goals?
KM: I am so inspired by the ACC motto, start here – get there. My short-term goal from here is to participate in a KLRU internship through the new Streaming TV AAS degree. I have watched PBS for over 90% of my life, and I think it would be a special honor to learn and work with the KLRU team. My long-term goal is to become an executive producer and start my own production company.
RTF: What inspires you to be a visual storyteller?
KM: Visual storytelling has been an integral part of my life since the beginning. From as early as four years old, I remember reading my favorite books and wishing I could watch the story unfold or show others what I saw in my head. As my imagination grew and expanded, I developed an intense love for reading and knew that I wanted to be somehow a part of bringing stories to life and visually share them with others. I also think that the powerful stories I've watched have inspired me to do the same.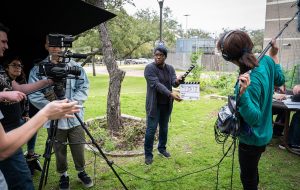 RTF: What RTF class has challenged you the most?
KM: The RTF class that has challenged me the most is Lighting. When I took my first RTF class (TV Tech), working with the studio light kits intimidated me. I honestly hoped I would never have to touch lights ever again physically. Due to my degree requirements, that wish could not come true. So, in the Spring Semester of 2020, I enrolled in Lighting with Professor Jay Hubert. Overall, the class challenged me to face my fears of handling lights. With Professor Hubert's detailed and engaging instruction, I learned how to appreciate and produce lighting that makes impactful cinematography. The class that challenged me the most also helped me grow the most as a filmmaker.
RTF: How do you manage to find "balance" between the demands of school, family and these crazy times?
KM: These are undoubtedly crazy times. Some weeks are more challenging than others. Honestly, I have a great team, my kids. We work together; having extra hands makes the balancing act much more manageable. However, they are kids, and sometimes they need me to juggle it all. During those times, I just remind myself that I have lived through worse, I survived then, and I will survive now. To keep from getting burned out with all the demands of school, family, etc., I make myself a priority. If I am healthy and happy, I can do more. Again, balancing is more complicated when alone; I am truly thankful that my kids are willing to support me while I am in school.
RTF: What is your impression of the "new digs"?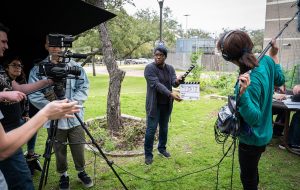 KM: Wow, incredible, professional, high-tech and worth the long wait! I was so thrilled to see the new RTF facilities at Highland for the first time. Being in the new studios after nearly a year of waiting meant so much to me; it reignited my passion. I can only imagine how awesome it will be when campus is fully opened again. I am so proud and thankful to be a part of the RTF community and a River Bat.