Take 5 With RTF Faculty Member John Moore
April 23, 2021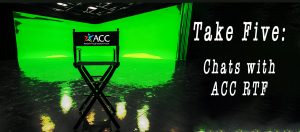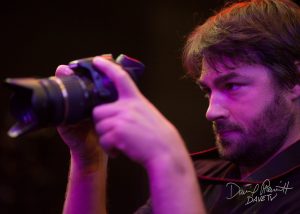 John Spottswood Moore is a multi-award-winning editor, producer, animator, and director based out of Austin, TX. After receiving his BA in Film Studies from the University of North Carolina at Wilmington, Moore went on to earn an MFA in Film Production from the University of Texas, where his graduate thesis film, "Once Again", was awarded the Barbara Jordan Media Award for Excellence in Broadcasting by the state of Texas. Though Moore has worked in all facets of film production, his true passion is editing and post-production. With almost 20 years of professional video editing experience, Moore has produced and edited marketing videos for companies such as Lenovo, HP, Old Spice, PBS, and FaceBook. Before teaching at ACC, he spent nearly three years as a staff editor for Rooster Teeth. John's upcoming documentary feature, "When We Were Live", about the history of public access TV in Austin, has been awarded two Austin Film Society grants.
When not working, John enjoys running, graphic novels, and memorizing useless trivia to recite at parties.
RTF: You know the ACC motto, how does it speak to your goals?
JSM: With every student I teach, they bring to me not only a greater understanding of the human condition but also a new fresh view into how they approach telling their own stories. As such, at the end of each semester, when I watch a student's hard work, I am re-inspired as to why I chose my profession and the power of cinema.
RTF: You grew up in a military family – do you think being uprooted all the time influenced your filmmaking in any way?
JSM: It definitely did! I lived in six different places by the time I was 13 years old. When you are unsure of how long you will be in any one place, it normally forces you to learn how to make friends and find comfort in an unfamiliar setting very quickly. As a filmmaker, this has been crucial, because I have no problem traveling, building rapport with strangers, and embracing new experiences in order to produce the best project possible.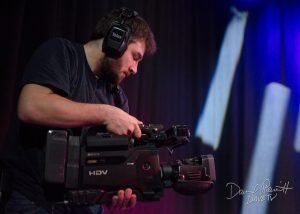 RTF: What professional jobs did you have / still have before becoming an Instructor?
I have been working in the film industry for nearly twenty years. This includes producing and editing marketing videos for companies such as Lenovo, HP, Old Spice, PBS, and FaceBook. Before teaching at ACC, I spent nearly three years as a staff editor for Rooster Teeth. I am currently finishing up my first feature-length documentary as director, When We Were Live, for which I have received two Austin Film Society Grants as well as several Grants from the City of Austin Cultural Arts Division.
RTF: What RTF class that you've taught so far has been your favorite?
It's hard to pick one, as they each have their own series of rewarding experiences. One of my favorites would have to be my Advanced Editing Class. As a post-production professional, it is always great to be able to teach students the reality of what it is to be an editor in the real world. So many students are leaning in the direction of careers in editing, that I am excited to help arm them with skills that will make them stand out in the crowd. It is my dream that, some day, we may be able to even offer a post-production certificate or degree track, but for now it is a lot of fun educating students in such a specific field.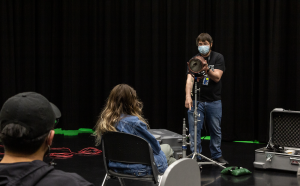 John Moore Demonstrating Lighting to the ACC RTF Field Production class Spring 2021
RTF: What is your impression of the "new digs"?
I am absolutely floored by the new facilities! From the podcast studios, to the edit labs, to the panoramic green screens in our multicam studios, you can't help but think of how each piece of gear will act as an instrument to somebody's vision. It's like working in an imagination factory!