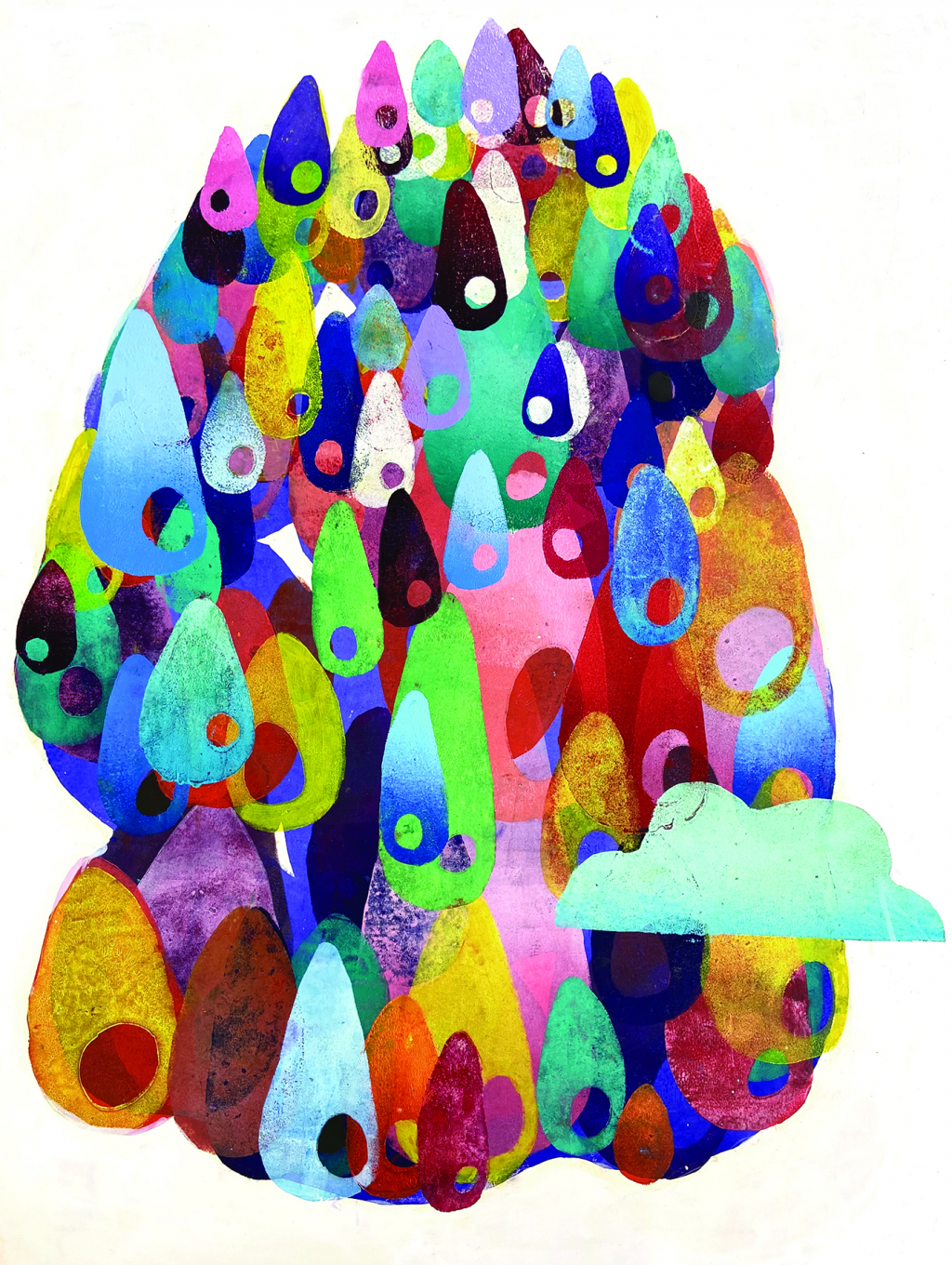 The Contemporary Print 2023
January 24 – March 9
Gallery 2000
Maria Frati, The Start, 2022, monotype, 32 x 22 in.
The Art Galleries in collaboration with Print Austin is pleased to bring The Contemporary Print 2023 to Gallery 2000 on ACC Highland Campus. This scope of this exhibition aims to highlight traditional printmaking techniques and innovative approaches in contemporary printmaking. 
ABOUT OUR JUROR:  Rashaun Rucker (b. 1978, Winston-Salem, NC) is a product of North Carolina Central University and Marygrove College. He makes photographs, prints and drawings and has won more than 40 national and state awards for his work. In 2008 Rucker became the first African American to be named Michigan Press Photographer of the Year. He also won a nati​​onal Emmy Award in 2008 for documentary photography on the pit bull culture in Detroit. Rucker was a Maynard Fellow at Harvard in 2009 and a Hearst visiting professional in the journalism department at UNC-Chapel Hill in 2013. In 2014 Rucker was awarded an artist residency at the Red Bull House of Art. In 2016 Rucker was honored as a Modern Man by Black Enterprise magazine. In 2017 Rucker created the original artwork for the critically acclaimed Detroit Free Press documentary 12 and Clairmount. His work was recently featured in HBO's celebrated series Random Acts of Flyness and Native Son. In 2019 Rucker was awarded the Red Bull Arts Detroit micro grant and was named a Kresge Arts Fellow for his drawing practice. In 2020 Rucker was named A Sustainable Arts Foundation Awardee. Rucker was a 2021 resident at the International Studios and Curatorial Program (ISCP) in Brooklyn, New York and is currently a Mellon Resident at the University of Michigan Institute of Humanities. Rucker's diverse work is represented in numerous public and private collections.
Upcoming Artist Talk with Exhibition Juror Rashaun Rucker
Thursday, January 26, 5:30pm – 6:30pm
In-person on ACC Highland Campus and Via Zoom
Related Exhibition Programs and Events
January 26, 5:30pm - 6:30pm - Artist Talk with Exhibition Juror Rashaun Rucker
This hybrid talk will take place at ACC Highland Campus in HLC 2.1550. Gallery 2000 opens at 5:00pm for viewing.
Please fill out the RSVP form for this event. For virtual audience members, see the RSVP form for information about watching via Zoom. 
February 7, 4:00pm - 5:00pm - TAG Tuesdays: What is Contemporary Print? with Annalise Gratovich
Meeting Place: Gallery 2000 (HLC 2.2450) at ACC Highland Campus
This TAG Tuesday session brings Austin-based printmaker and ACC alumni Annalise Gratovich to Gallery 2000 to discuss the evolution of traditional and contemporary printmaking techniques as they pertain to the Spring 2023 exhibition The Contemporary Print.
February 11, 6:00pm - 8:00pm - Opening Reception
The Art Galleries at ACC and Print Austin invite you to join us for The Contemporary Print's opening reception at ACC Highland Campus in Gallery 2000 (HLC 2.2450). Refreshments and live music will be provided. This event is free and open to the public.   
February 21 - 4:00pm - 5:00pm - TAG Tuesdays: Exploring the Exhibition Artworks
Meeting Place: Gallery 2000 (HLC 2.2450)
This TAG Tuesday session features local artists and educators as they dive into specific artworks in the exhibition.