Nicholas Dertien
Nicholas Dertien, is an Austin based artist, educator, and small business owner. After completing his MFA at the Rhode Island School of Design in 2009, Nicholas set up a private sculpture studio in Austin. He has exhibited work in Marfa, Seattle, Austin, Providence, and New York. Over the past decade, Nicholas's major studio themes have focused on visually representing the sensation of breath, asthma, and the eroding of the physical body. In 2015, Nicholas launched Visual Ministry Consulting, an organization that strives to create visually vibrant experiences for local worshiping communities. Nicholas is an adjunct faculty member at Austin Community College and Concordia University Texas, where he teaches courses on drawing, design, glassmaking, photography and ceramics. As an educator Nicholas believes that creating a "non-fear-based learning environment" is critical for creative studio courses. Within this learning environment, students learn to use a discovery-based practice, which promotes design-development processes and critiques as tools for positive growth. His teaching philosophy can be found on his website. Nicholas lives and works in south Austin with his wife and four sons.
Current Courses 2020-2021
ARTS 1311 Design I
ARTS 1316 Drawing I
ARTS 1317 Drawing II
Adjunct Assistant Professor
Website: nicholasdertien.myportfolio.com
Email: nicholas.dertien@austincc.edu
What do you most hope students will take away from your class?
The ability to use the course material as a way to solve visual "problems" in their own work. This leads to them being more confident in expressing their own creative passions. 
What is your favorite technique or topic to teach? Is there one lecture or selection that is the most fun for you to teach?
I really enjoy teaching the design principle of Scale and Proportion because of the multifaceted nature of the concepts. I particularly love assigning a project that involves the whole class in which they have to design and finish a large scale drawing (3×5 ft. plus) during one class period. The students begin in disbelief that they can finish a drawing at that scale in such limited time, but the students consistently rally together. I help focus the design ideas and get a chance to teach about group art making and enjoy watching as the students make something extraordinary.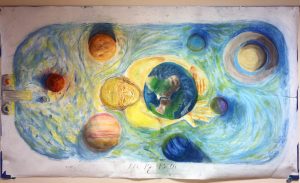 Image: The Big Bath by ACC 2018 Summer Drawing Students, soft and semi-hard paste, 3 x 5ft.
Is there another medium or area of research that you have always wanted to explore?
I would really like to use a sensory deprivation tank, I'm fascinated to see what ideas would come from that experience. Many of my projects have involved a physical/endurance aspect, either in the act of making the work itself or as research in which the experience itself leads to new directions in my art making. A common thread through these previous endeavors is the awareness of exterior sensations versus interior sensations. As I understand that threshold of exterior/interior blurs in a sensory tank, which is intriguing to me. 
Name a place that you've traveled to, but feel like you need to go back to because you didn't have enough time there.
Mt Etna, Sicily, and all the rest of Italy for that matter. But especially Mt Etna, I was on the mountain one night as it was erupting, we drove through the ashfall, the sky and road blurred into blackness and we had to use the snow reflectors to follow the road. Coming out of the ashfall, we rounded a corner and saw the plum of lava arch into the sky further up the mountain.  I would love to go back and spend more time on the mountain and in the surrounding area.
If there was one artwork that you could bring home and display during this period of quarantine, what would it be?
The Park by Gustav Klimt
If you could study under or interact with any living or historical artist, who would it be?
Robert Rauschenberg, in fact, not trying to work in his studio is one of my very few regrets. It is one of the reasons I encourage students to reach out to the artists and designers that they admire. I tell students about how I emailed Maya Lin's studio when I was a graduate student researching her work and received images of a new piece being installed in the reply. Hopefully my students find opportunities to experience generosity in the artist community, including the chance to work with artists they admire.