Upcoming Performance
The Snow
by Finegan Kruckemeyer
Directed by Jamie Rogers
Black Box Theatre Highland Campus Building 2000
Performances will be February 16th – March 5th 2023
Thursday & Friday 7:30 PM
Saturday & Sunday 2:00 PM
(Show recommended for ages 8 to Adult)
---
When an epic snowfall imprisons the residents of the tiny village of Kishka, young Theodore Sutton proposes the villagers build a catapult to fling him and six of the village's bravest and strongest out in search of a solution. The catapult hastily assembled, Theodore and the heroes are launched over the snow and into the grandest of adventures. Whimsical and humorous, dark and mysterious, heartfelt and sincere, this play weaves a fantastical Grimmsian tale for the entire family.
Tickets on sale beginning January 17th! All ticket sales go directly to ACC Drama & Dance Scholarship fund.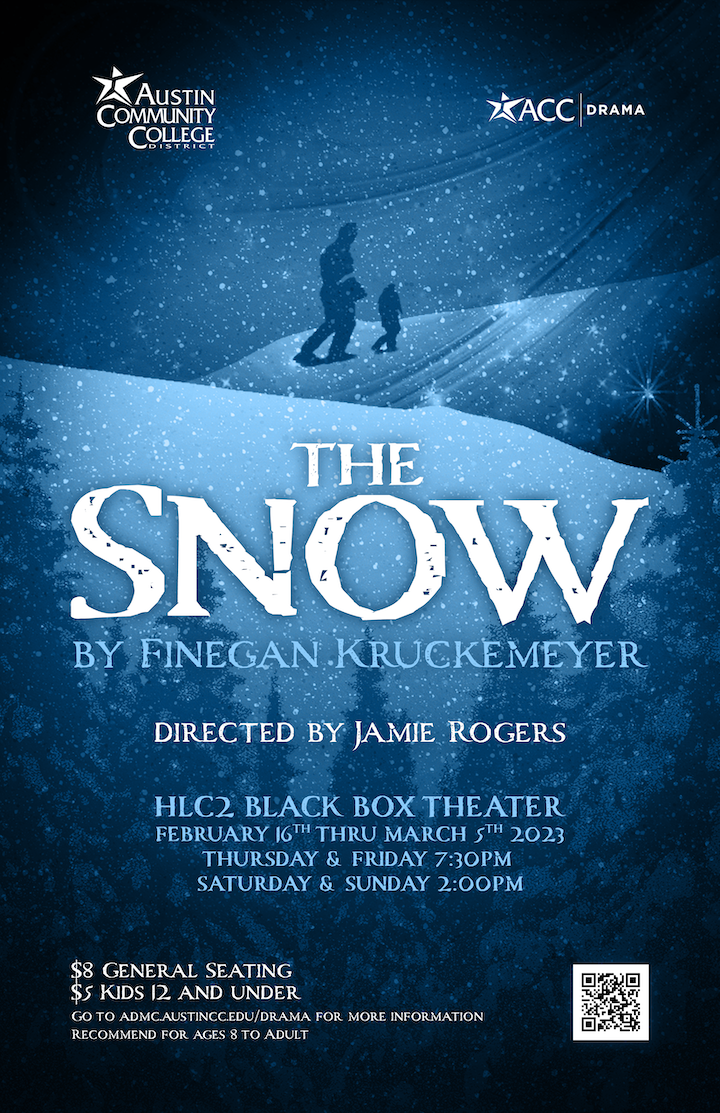 ACC DRAMA'S 2022-2023 SEASON:
Fade
The Black Box Theater
October 13th -30th
Curtain Fall
The Black Box Theater
December 8th
Spring '23
The Snow
The Black Box Theater
February 16th – March 5th
Curtain Call
The Black Box Theater
May 11th
The Mad Ones
The Black Box Theater
June 8th – 25th
Please consider making a donation to the ACC Drama Department Scholarship fund at the link below. Your contribution will help ACC Drama students pay for their tuition, books and course materials. Donate here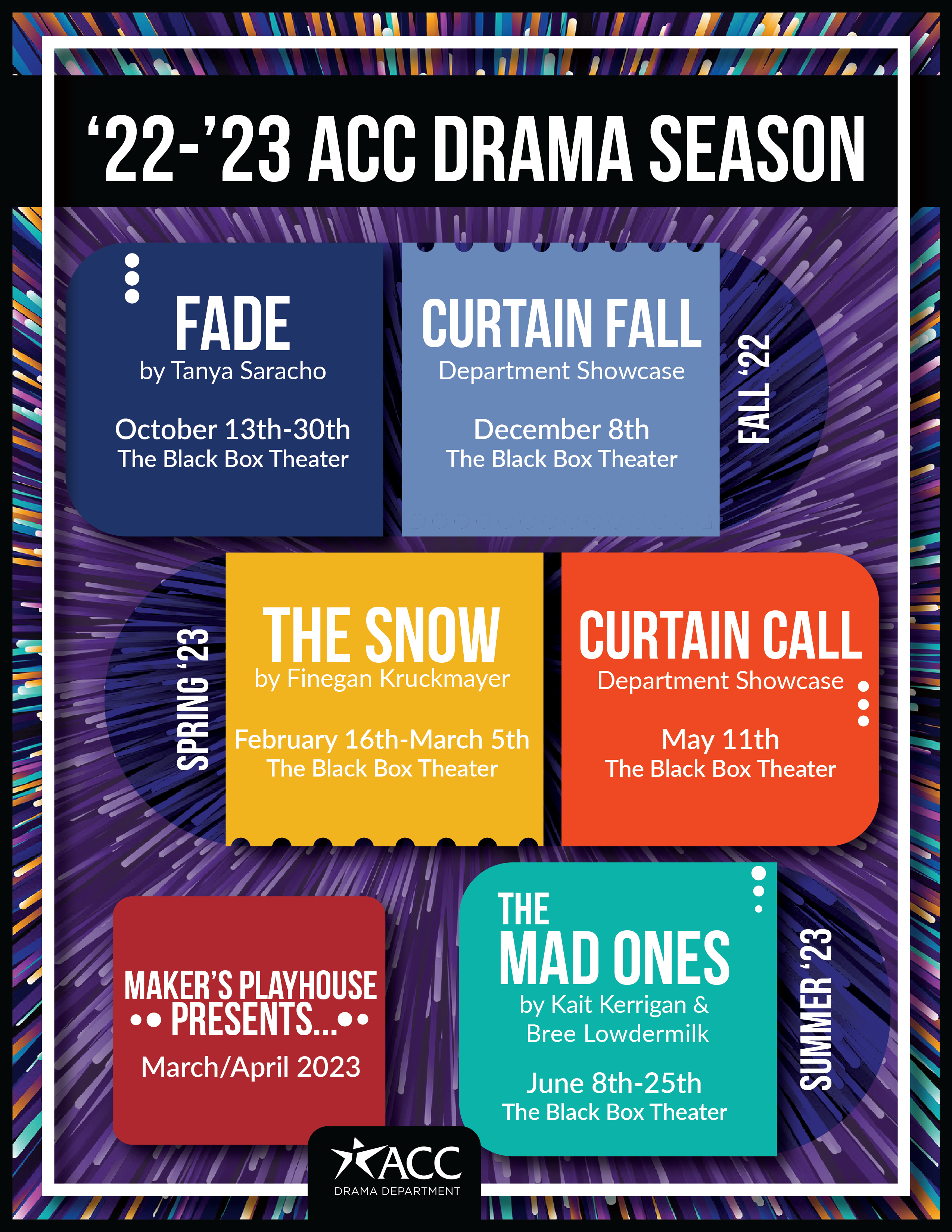 ACC DRAMA'S 2021-2022 SEASON:
Everybody
HLC Black Box Theatre Grand Opening
February 17-27, 2022 @7:30, 2PM Sundays
The Glass Menagerie
HLC Black Box Theatre
April 14-24, 2022 @7:30, 2PM Sundays
radiopidemic season 3 & season 4
Curtain Call
Fall & Spring
Lonely Planet
Broadway on Demand
October 14-24
Iphigenia at Aulis
The digital Green Room and ACCTV
December 2-12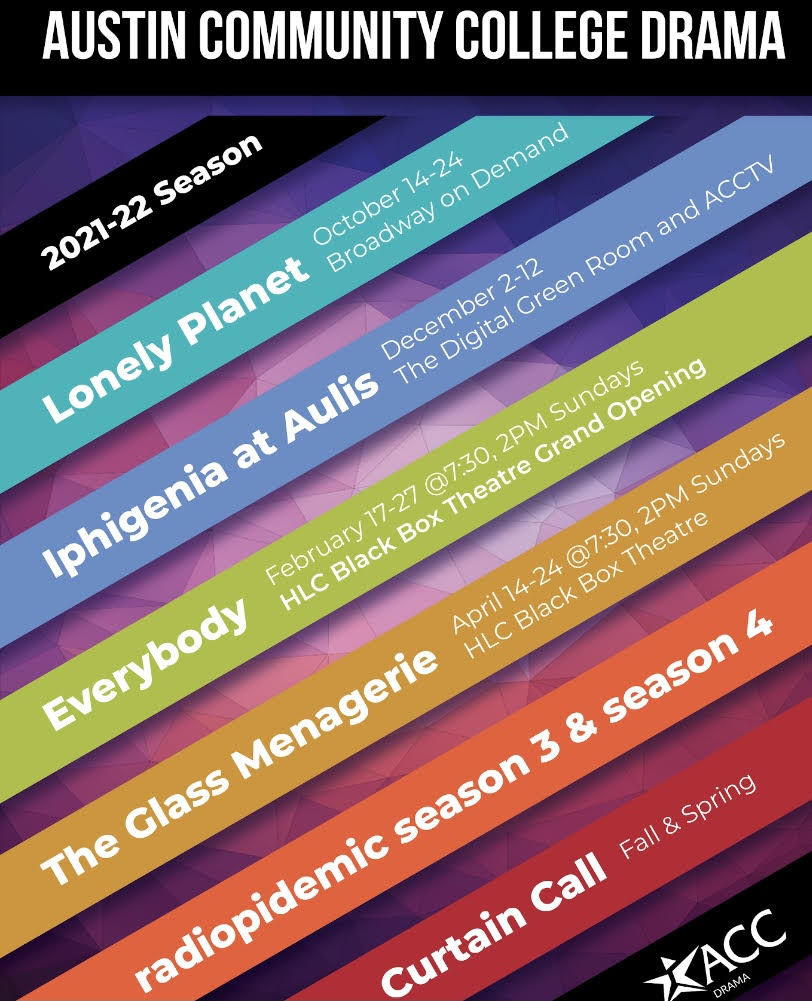 ACC DRAMA'S 2020-2021 SEASON:
The Sightless
by Maurice Maeterlinck
ACC Drama presents The Sightless, a play that was written in 1890 by the Belgian playwright Maurice Maeterlinck and this production was directed by Perry Crafton, ACC Drama Professor. The story follows a group of blind travelers as they wait in a remote wooded area for the return of their guide they fear has abandoned them and features several ACC Drama students in the performance inaugurating the ACC Highland's Phase 2 new Black Box Theatre.
Premieres May 27th at 8:00pm on ACC/TV and the Digital Green Room YouTube Channel.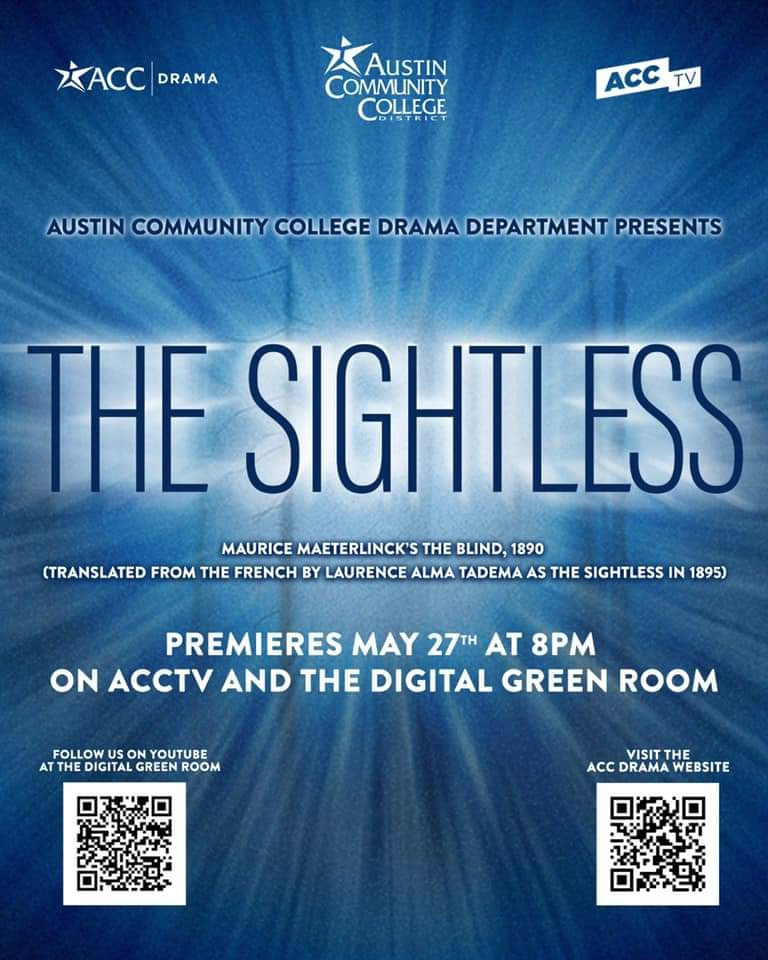 radiopidemic
Season 2:
Under Thirty Minutes
If you think about it, pizza delivery is a peculiar phenomenon. A stranger travels to an unknown place to meet an unknown person, who, in turn, opens their door to an unknown visitor.
Sometimes it works out well… radiopidemic is a 8-part weekly series of short audio plays written by ACC creative writing and local professional playwrights.
Season 2 premieres Wednesday, April 7th and new episodes will be released weekly on our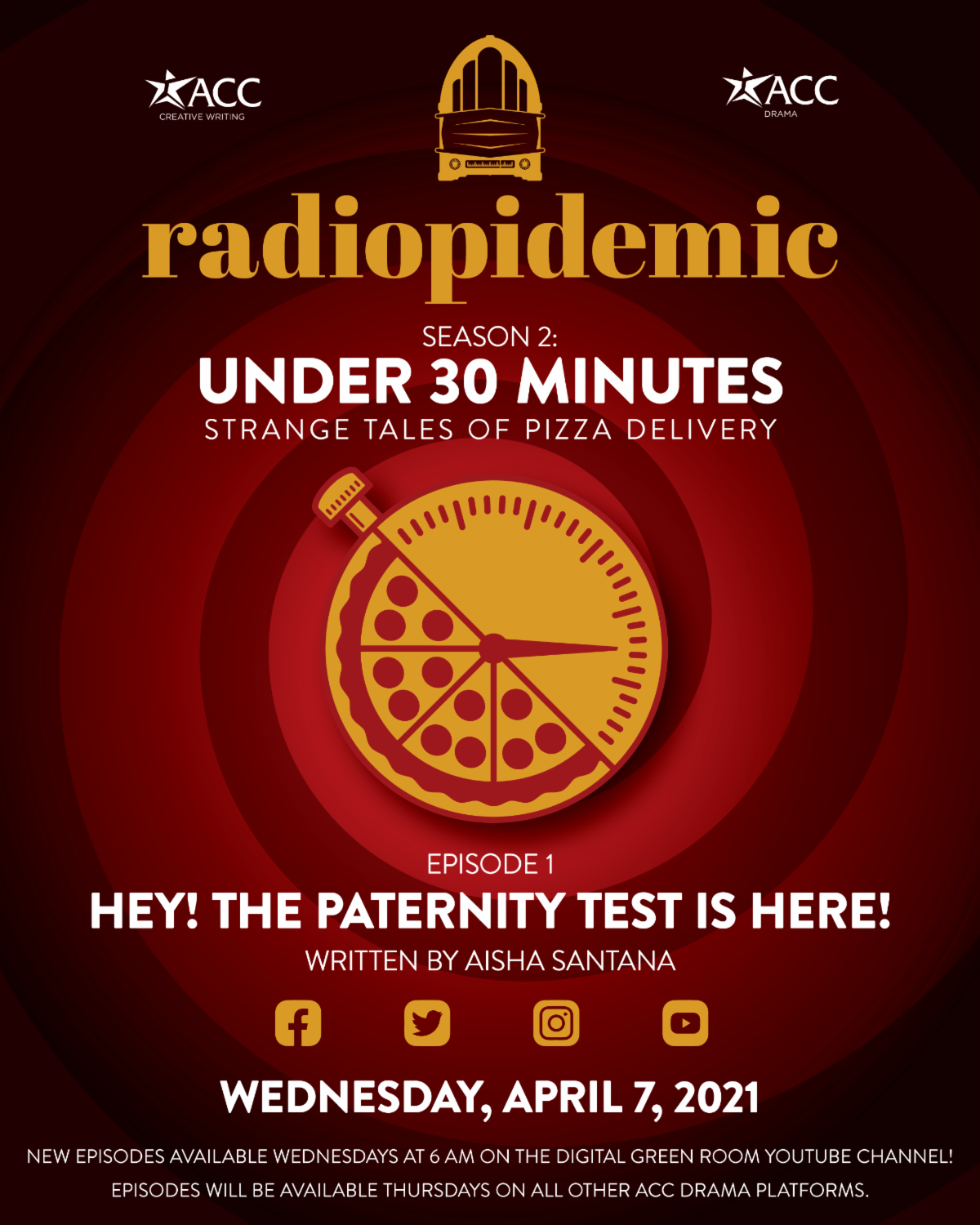 radiopidemic
Season 1:
Tales from The Congress Avenue Bridge
This fall, the Austin Community College Drama Department presents rradiopidemic , a new program of short audio plays written by ACC creative writing students and local professional playwrights.  In Season, one we'll bring you tales by, about, and around, The Congress Avenue Bridge.  The 12-part weekly series imagines this landmark at the center of Austin as a backdrop for stories about the people crossing it.  Bridges are magical places, holding secret the stories of those who cross them.  
New episodes available every Wednesday on The Digital Green Room.
Curtain Call: A Showcase of Work from Students in the Drama Department. The ACC Drama Dept. will host an end-of-semester digital showcase in December 2020 that highlights the work done in performance and technical theater classes.