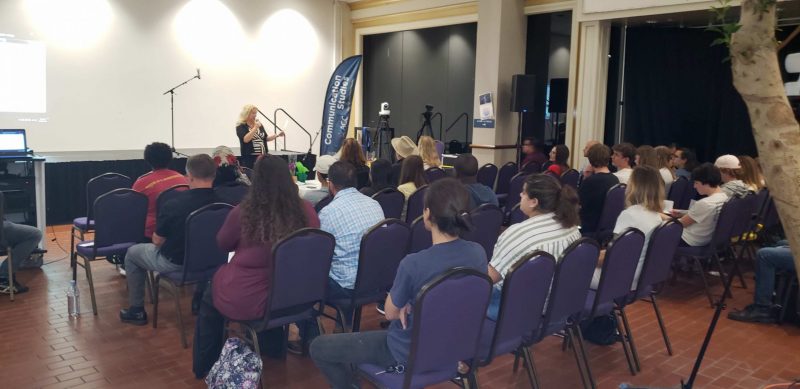 Events
RIVERBAT RALLY 2021

ACC's Communication Studies Department is hosting its Inaugural Speech and Debate Tournament! 
Saturday, March 6th (Virtual Event)
Were you a Speech & Debater in high school? Do you remember how fun it was?
This tournament serves as an outreach to our area high schools and those around the state providing
them with an opportunity to prepare for their UIL District Meets and UIL State Meet in CX Debate,
but also spreads the message about ACC Communication Studies and what we have to offer.
We are looking for Comm Studies majors who are interested in
volunteering to be judges for the tournament. For more information, please reach out to Prof. Hunt at 
mhunt@austincc.edu
!
For high schools interested in registering for the tournament,
please see our Tabroom page here.
---

4th Annual COMMS Week: October 20-22, 2020
3 Days – 3 Big Events
Tuesday, Oct. 20, 2020, 7 PM – Student Speech Contest
Bringing people together while apart.
Students compete for a $100 Amazon gift card as they share what this year's theme means to them in a three to four-minute presentation.
For contest rules and deadlines please click here.  The judge's ballot is available here.
Must be an ACC student to participate.  Round 1 entries due October 9th.
Participants will be sent the Zoom link to use the night of the competition.

Live Streaming available for audience members

here

.
Wednesday, Oct. 21, 2020, 3 Sessions – Faculty and Staff Brown Bag (9 AM, 12 PM, and 4 PM)
Communicating about difficult or sensitive issues can be a challenge for even the best communicators and leaders. Virtual interactions, where the tone of voice and facial cues may be absent, complicate our ability to convey messages as desired.
Join Communication Studies faculty as they explore alternative approaches to communicating messages that are likely to evoke defensiveness. Increase your odds of achieving a more positive response – even when difficult issues need to be addressed. These constructive communication approaches will help you maintain a positive communication climate with your team and improve your overall confidence in discussing difficult or sensitive issues.
Watch the recording of the 9 AM Session here.
Thursday, Oct. 22, 2020, from 12-1 PM – Career Forum: "Communication in Careers" via Zoom
Join three Communication experts as they discuss communication as a valuable workplace skill and how everything has changed since the pandemic.  They'll explore the challenges of staying together while apart and how corporate America is overcoming those challenges.  Panelists will end with recommendations for new graduates on how to make themselves stand out in today's employment environment.
Guest speakers include Hon. Daniel Guerrero (Global Business Development Consultant – J. L. Powers & Associates), Dr. Crystal Wotipka (Sr. Community Outreach Manager at Rifeline), and Ms. Lana McGilvray, M.A. (Co-founder and CEO of Purpose Worldwide).
Click here to learn more about each panelist!
Zoom link for event: Click here.
Click here to see the event flyer.
---
Comm Con 2: The Online Edition (2020)
In 2020, we took Comm Con online for a virtual experience. The Tech Comm, Journalism, and Communication Studies departments met virtually on Thursday, September 17th from 6-8pm via Google Meet. See the past event schedule below, and we look forward to seeing you next year!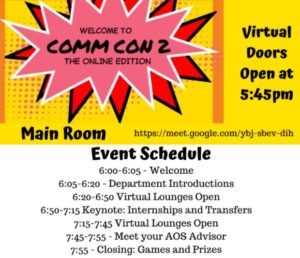 Did you attend Comm Con 2? Want to help make Comm Con even better next year? 
Fill out this survey to help us make Comm Con even more supercharged in 2021!
Missed out on Comm Con 2?
Never fear! You can still access all the event materials from Comm Con 2!  Click here to view the event information.
"Being the best you can be, that's doable. That's possible for anybody if they put their mind to it." 
Carol Danvers  –  Ms. Marvel #50